Welcome!
About
Getting Started
This is a Wiki that anyone can edit!
Consider making an account before editing! This lets you keep track of your edits and allows you to take place in the social and community section of the Wikia!
Make sure to read through our Rules and Guidelines page before making any edits!
If you need help editing, please refer to the Editing page!
Make sure all information is canon and discussed either in the manga or the anime
Consider adding images to the articles, as this makes for a better looking page
If you have any questions, please contact an admin!
Consider expanding some Article Stubs
Take a look through our catagories to see what needs editing!
Characters
Affiliates
The Series
In his first day at his new school, a twelve-year-old Ritsuka Aoyagi meets a mysterious twenty-year-old male named Soubi Agatsuma. Soubi claims to be a good friend of Ritsuka's brother, Seimei, who was murdered a few months earlier.
News
Loveless volume 13 goes on sale in print in English on June 12, 2017
WIP translations of chapters 120-131 are available for download at Kamibana's Livejournal
The last Loveless chapter (131) was released in July, 2016
Yun Kouga currently seems to be on a hiatus, but no word has officially been put out about why or how long it will be
Volume 13's release has been pushed back indefinitely
In 2015, Yun Kouga celebrated her 30th anniversary of drawing manga
Featured Article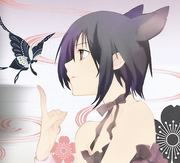 Ritsuka Aoyagi
(青柳立夏, 
Aoyagi Ritsuka
) is the main protagonist of the manga and anime series,
Loveless
. Ritsuka's "true" name is
Loveless
, although it has yet to appear on his body like the names of other
fighter
and
sacrifice
pairs. Despite his young age and inexperience, Ritsuka is very intelligent and approaches things with startling maturity.
Read More...