Name:
Midori Arai
Debut:
Manga Volume 1, Anime Episode 1
Birthday:
Unknown
Sign:
Unknown
Age:
Unknown (probably 12 years or older)
Eye Color:
Orange
Height:
Unknown
Status:
Sacrifice
Relations:
Seiyū:
Motoki Takagi
Midori Arai (新井 ミドリ Arai Midori) is the male member of the Breathless pair. Midori is the Sacrifice and partner of Ai Myoujin, the Sentouki of the pair.
Midori made his debut in both the first episode of the anime and the first volume of the manga. Midori is a student of the Seven Voices Academy. He was appointed by Ritsu Minami to recruit Ritsuka Aoyagi as one of Ritsu's students. After failing twice in completing the task, Midori and Ai were taken off the assignment and sent back to academy for additional training.
Breathless later appears in volume 6, where they welcome Ritsuka at the Seven Voices Academy.
When Youji Sagan thanks Ai for the band-aid she gave him, Midori appears to get jealous and tells them to not be so friendly with one another.
In an extras chapter, Midori tells Ai that learning English is very important. They then begin to discuss having their wedding in Hawaii.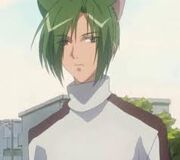 Midori Arai and Ai Myoujin of the Breathless pair were the first rival pair to be confronted in the Loveless series.
Midori Arai has a fascination for odd beverage concoctions. For example: summer tangerine cola. This is something his fighter Ai Myoujin doesn't understand.